Posted: September 2, 2012
Filed under:
Latest
| Tags: Emilio Pucci, Havaiana, Matthew Williamson for Havaianas
Leave a comment
Matthew Williamson, famed British designer, has teamed up with flip flop gurus, Havaiana, for a limited edition collaboration.  The catch? They're not collaborating on summertime sandals.  Williamson is creating Havaiana's first line of rain boots.  How appropriate considering his UK background!
Matthew Williamson has been an iconic British designer for years.  This year marks the 15th anniversary of his fashion house.  He's well-known for his celebrity clientèle, bright colours and interesting cuts.  He's worked for Ladies Fashion Brands Emilio Pucci, Monsoon and Accessorize.  Williamson has won numerous design awards (including a BFA!), opened flagship stores in London, New York and Dubai, and is no stranger to collaborations.
In 2009 Williamson launched an exclusive line with H&M that featured his first foray into menswear.  And in 2011 he created an affordable capsule collection for Macy's that featured bright prints, cocktail dresses and revamped denim classics.
This time, Williamson has brought his signature bold prints to footwear.  He's designed two rain boots for footwear company, Havaianas.  Both pairs are bright, loud and adorable.  "I'm drawn to the way Havaianas capture playfulness and light-heartedness in their products – there is clearly an element of fun," Williamson explained about his collaboration.
Will these designer rain boots help you through a dreary rainy season? With prints as bright as these it'll be hard not to go jumping through puddles whenever you get the chance.
---
Posted: May 20, 2012
Filed under:
Latest
| Tags: Accessorize, Bottega Veneta, Cannes Film Festival, drop earings, earings, Emilio Pucci, Eva Longoria, Fan Bing Bing, Freedom, River Island, Topshop
Leave a comment
Accessorising is essential. It is like going to a party and not having your hair done. Accessories may only be a small fraction of an outfit, but they are what makes the look so special and unique!
So, what is in? Drop earrings. As seen on Eva Longoria and Fan Bing Bing at this years Cannes Film Festival, they are a must for the summer. Especially when wearing denim waistcoats or shorts, not just for night outs, but they are a cool way to spruce up your day-to-day wear, to leave an edgy feel. Having your hair pulled back in a high ponytail or a high, messy bun and showing off your new, dangling earrings is the way to go with the look. Top designers like Bottega Veneta and Emilio Pucci have a fabulous range. If you are worrying about the price, there is no need to fear, as I have found the best, must-have pieces at reasonable, high-street prices.
Freedom at Topshop seems to have an extremely cool range of long, triangle and arrow drop earrings. From casual wear like these triangle arrow drops,
to this elegant, stylish pair of multi triangle drop earrings. Both pairs of earrings are only £8.50.
Or why not go for these delicate brushed heart short drops from Accessorize for only £4.
As tribal wear is another 'in' look, why not go for this pair of silver tone triple row spike drop earrings from River Island for £9, to shake up your outfit.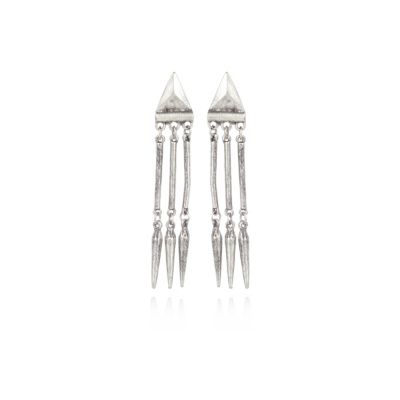 But out of all the drop earrings I found, my favourite, essential pair are these white wooden skull earrings from River Island. For just £4, they are a bargain!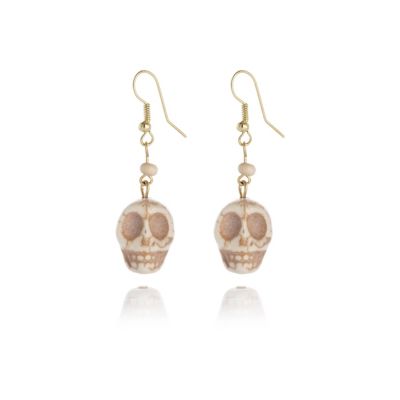 Just by adding a pair of these long, petite, dangling earrings can transform any outfit to an elegant, chic look in just a few seconds, so why not treat yourself and indulge in a gorgeous pair?
Images courtesy of Topshop, Accessorize, River Island, Daily Mail and Glamour
By Katerina Yiakoumi
---